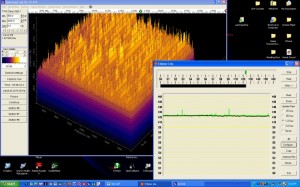 This is an example of the RFI I am currently dealing with!  Click the image to enlarge it.  I have an open request to the ARRL for some help in this.  They are currently waiting on me to provide some additional data.  This has gone on for the past two years.  Only recently have I asked the ARRL for help.  The ARRL has taken an interest in this, so I have high hopes that it will be corrected sooner than later.  I should have reported it a year and a half ago!
Of late, (the last week), it has taken on a life of it's own.  It used to run around 10 to 20 db over S9.  Now, today, it hit 45 db over S9 at peak, and is now running 25 db over S9, constantly!  The antenna is 100 plus feet out in the middle of a field, and no where near a power line or home for at least 150 feet.  I have done the house power off test, and it is not my home.  I have at least three different sources of noise, and am about ready to ask the FCC for help…
The display in the lower right is the calibrated S meter graph covering the past few minutes.  The FFT 3D spectrum behind it is a graph showing the characteristics of the noise over time.  It represents about 6 hours of time.  I have now hit a record, two days of 25 over S9 noise…
Addendum 1:
A few folks have asked what software was used to generate the above image.  The FFT graph is generated by DL4YHF's SpecLab, and the S Meter readings were generated by a program named S-Meter Lite W8WWV.  Both programs have proved so very useful in tracking this noise down.  I am now using a loop antenna to triangulate on the sources.  Also a fellow sent me a link to a really good pdf file covering suppression of RFI.
Addendum 2:
I am not sure why I did not think of this, but K7CJ asked for an audio sample…  Here is a 30 second clip of what 40 Meters sounds like.  S Meter is running around S9 to 15 over at this time.  Click here for Clip of 40 Meter Noise.  Here is a 20 Meter noise clip.
Addendum 3:
The 20 over S9 noise source has been found and silenced…  See last entries.
Daily Plots and information:
Equipment used:
Receiver: ICOM 756 PRO III
Antenna: Vertical, ground mounted
Feedline: Underground
Preamp: On for 20 Meters
Preamp: Off for 40 Meters
02/12/12:
I will start adding some of the graphs and sound cuts to this, as a few local hams have expressed interest in removing the noises as well…  Here is yesterdays graph…  Click the graph for an expanded view.
I have sent Bonnie/Ron at the ARRL a note that we are all three going to be looking later this week or next for the noise…  Bonnie is the manager for Oregon Section, and Ron is the tech fellow for Oregon.  Both have shown an interest in helping track the noise.  Ron has indicated he would consider assisting in the event we can not locate the sources.  Very nice of the ARRL to assist!  I will start posting these daily for either 20 or 40 Meters.
Last nights data dump for noise…  I will shift the FFT captures to reflect the entire evening as opposed to a few moments of capture.  I expect my mobile rig to be back in service within two weeks.  The loop antenna has about a 30 db null, so DFing should be simple.
02/13/12:
The above is the S-Meter readings across 24 hours as received on 20 Meters.   Standard Setup, with the exception of the Noise Blanker being left on in error.
Above: FFT Across a 24 hour period, Noise Blanker was left on in error…
Above: FFT across three minutes, note Noise Blanker was on in error.
FFT of the 40 Meter band, taken moments after the 20 Meter band FFT above.  Again, the NB was on.
Here is a short Audio Clip of the noise on 40 Meters, taken at the end of today's data run.
02/14/12:
Patch Tuesday from Microsoft got me, machine rebooted, and left only partial files, no update today.
02/15/12:
Stan, (K7OLN), and I went out and used the Loop to locate one noise source.  I believe this is the S-9 to 10 Over, and sometimes 40 over S9, 40 Meter noise source.  It was located to a single telephone pole, which has a huge amount of overgrowth on and around all the HV cables.  Once that  is gone we will continue looking on 40.
 The homebrew loop works well, it points directly to any noise source on 40 or 20.  My wife received some less than favorable Medical news yesterday, so I will loan Stan the loop for a week or so, and he will report the noise to the power company, who has been very helpful when they have an issue.  Here are yesterdays plots:
Here is the FFT for yesterday.  This FFT covers a 24 hour period:
I will be interested to hear with the local power company sets for a timetable on the fix for this issue…
03/16/12:
FFT Capture of 24 hours of 20 Meter noise.  Note all times for both graphs are in GMT time.
03/17/12:
Above is the noise graph for 03/18/12 GMT.
03/18/12:
03/19/12:
Last yesterday/last nights noise across 40 meters.  Note all times in GMT.
Las tnights FFT for 40 Meters.  Note all times in GMT.  Also there was a very odd noise yesterday…  Listen to it here…
03/20/12:
S-Meter Values for today
FFT for today:
Some progress made today…  The local Power company (EWEB) was out to listen…  Of course they arrived in the quiet period for the pole in question.  They indicated they would be out tomorrow to listen again.  The noise is back this morning, here is an audio cut.
03/22/12:
Interesting day yesterday…  We had a power failure at around 8 AM PLT.  When the power came back on, my 40 Meter 10 and 15 Db over S-9 noise was gone, and it is gone this morning still.  Graphs show it has not returned…  Maybe a tree took down the offending line!  The power failure also took out my graphing computer's video card.  The graphs today are ugly, due to a screen RAM issue.  I have another card on order, and it should arrive later this week.  I will replace the graphs after that with cleaner ones.  Note the times are OFF by some amount, so use these graphs as a guide.  The graphs stopped at 4:45 AM on 03/22/12 PLT, not GMT.  The clock got mis-set, and I did not notice until this morning.  All is well after today, clock wise.
Note times off due to operator error in recovering from power-fail, clock not set after power-fail.  Replacement video card on order.  Discovered another issue, the fuse was dead on my antenna switch, this placed things on the Dipole, not the vertical.  Corrected at 19:10 GMT.
03/23/12:
Well it was short lived…  The noise is back:
FFT for today:
03/24/12 (PLT):
No FFT today…  Video card arrived, and I needed to restart the machine various times to get it installed.  Note some missing time blocks in the S-Meter graph as well.  All is well now.
03/25/12:
My replacement video card arrived, and was installed…
03/26/12:
No graphs today, I did E/F Layer separation measurements today…
03/27/12:
The noise seems to have taken on a new pattern of start/stop times after the big wind storm, and the power outage.  As you can see, the Video card was the problem, and all is well again…  At least with the Computer, then noise continues…
03/28/12:
03/29/12:
03/30/12:
04/31/12:
04/01/12:
04/02/12:
04/03/12:
04/07/12:
Taking some time off from noise measurements…  Looking for a way to fingerprint types of RFI…  Currently testing Dopplergrams…  Below is WWV on 10 MHz, over about 15 hours.
05/29/12:
06/25/12:
It seems that my noise has returned…
08/22/12:
Progress! Stan, (K7OLN), and I have located two very loud noise sources close to our homes… One seems to be coming from a vault of some sort about 1000 feet from my antenna, the other is a pole about 1500 feet from my antenna. I have reported the Vault to the local Power company, as I can not tell if the Pole is a factor. Once the vault is quiet, then the next layer of noise will get looked it!
08/23/12:
Can someone ID this source? If so, please leave comment below… This is the next level of RFI, below the 10 over RFI, which sounds almost the same…
08/24/12:
A fellow from Electric Ops came by to inspect a locate regarding my conversion to Gas. I brought up the noise and he was interested in seeing what I had. I showed him the vault making all of the RFI. He had an RF detector with him. He indicated that yes, I have a very valid complaint, and that the vault appears to have a transformer in it with possibly some some issues.  We inspected the suspect vault, and a second vault to use a as a control for what to expect from a normal vault with regards to RF. The suspect vault pegged his meter on the RF tester, while the control vault did not, with the meter at the same settings. He took a copy of a noise graph from this month and my phone number. He indicated that someone from Electric Ops will be calling me Monday. He further indicated that the RFI folks may also hear from Electric Ops regarding this.
08/27/12:
No call from the power company, sent E-Mail to the RFI mail list.
08/28/12:
Tree cutting folks left note that they would be trimming trees in my area. This may be a result of an email to the RFI guys, and a call to the tree trimming department.
I had an extended conversation with the ARRL Tech person Ron F., seeking assistance.  What a kind and intelligent person he is!  Very helpful discussion.
Performed power off test on the house the Power company tagged as being the cause of the RFI issue.  It is a duplex, was able to contact both residents, and kill power to each side.  Noise continued.
In backing up to turn around, my car backed up into the driveway of the house next door.  The noise level is higher there, than at the transformer.  I will attempt contact with the person at that home tomorrow.
08/29/12:
Success!  I contacted the person living in the house, and he kindly went through his Circuit Breakers, locating the offending item.  He will be leaving it off and replacing it.  That takes care of the 20 Db over S9 source, now on to the S8.5 to 9.5 source…  I will begin characterizing the S9 source today…  In the meantime here are some audio cut of of what I believe to be related noise across several bands.  160 Meter, 80 Meters, 40 Meters.
08/30/12:
The graph on the top is the pre closest source discovery data, while the graph on the bottom is the post discovery graph.  Note the missing 10 to 20 over S9 signal between the hours of 04:00 to 14:00 GMT.  Note the new layer of RFI which is now visible in the lower trace.  Also note it follows the almost same pattern of on/off timings…
FFT: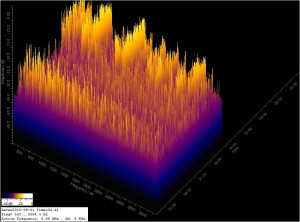 Note the missing spike
Look at this FFT, in the upper portion of the diagram, now look at the lower FFT, note the difference in look…  I feel these are two sources, not one that has returned after a quiet period…  Note the largish dip in the center of the graph, that is no RFI, and an S3 to S4 reading.
Wide Area RFI Maps of South Eugene during morning daylight hours:
I created a wide area RFI map for the South Eugene area.  Hopefully this will help in locating the remaining RFI sources.  The map is below:
08/31/12:
Note the two remaining sources, the one at S9 was uncovered when the 20 over S9 source was removed.  I have located two other sources about one half mile from my and K7OLN's QTH.  One source is 10 db over S9 in the car. , the other is 5 db over S9, and about the same distance but in a different direction.
09/01/12
09/03/12:
It struck me that I am loosing most of my operation time on 40 meters…  Here is an FFT showing how much actual time I can operate on 40.  Note times are in GMT, and RFI is on all night.
Click chart for larger image
The red arrows show the only period of time 40 Meters is now free of RFI across a 24 hour period.  Note the RFI free times are in the daylight hours, thus the time is pretty useless for DX on 40 Meters.
09/04/12:
Here is a time zoom of the 7 AM PLT for yesterday:
Note the drop as the S9 source is turned off…  The remaining S7 source now comes into view at 7:06 AM.
Here is a zoom of today at 7 :06 AM:
Note that this is the exact same time as yesterday, thus the conclusion is this device is on a timer of some sort, running it only at night.  I parked close to the S9 source at 43rd and Fox Hollow, (1/4 mile away), and it stays on through 7:06 AM, so it is not this source.  I will try it after the S7 source is gone today, if it is still there, then it is neither source on the above graph and I will ignore it as it is not causing me any RFI at this time.
09/05/12:
Attempted to check into the MARS net on 75 Meters…  RFI too high…
09/05/12:
09/06/12:
09/07/12:
09/10/12:
Anatomy of RFI layering
I believe I am getting to the end of this process, at least for me…  Hopefully the renaming RFI sources are the ones K7OLN hears when I locate them it should solve poor Stan's problem…  Below is a brief compression of time showing the unraveling of each layer of RFI, and how once it is gone, it uncovers another layer of RFI…  Note the dates at the tops of each graph:
First graph:
Note that 40 Meters is totally unusable 7X24X365, in essence 40 Meters is lost to me.  RFI on other bands mirror this problem…
The RFI in the above graph is new!  Note the drop at around 1300 GMT…
The initial RFI source was found and the owner was contacted and the problem corrected.  So far, that source has not returned, if it does, I will ask the FCC for an enforcement letter.  Note the two remaining RFI sources.  See graph below for breakouts of each.
Note the remaining two RFI sources, one of which I now believe I am very close to locating.  Look at the map below, you will see an area around 43rd and Fox Hollow Road.  Something in that area, on the North West side of the street is putting out a 20 to 30 db over S9 signal on 40 Meters into my mobile rig.   When the RFI source at 43rd and Fox Hollow Road goes away, the S6 to S7 noise source on my home receiver goes away as well, thus they are in some way connected.  I will begin approaching each home in this area when I can round up a second Ham to accompany me.
Click any map above for an expanded view of it…
I am pretty sure that the S6 to S7 RFI source is within a few hundred feet of the 43rd and Fox Hollow Road area showing in the map above.
0315:
The noise is back at S9, drove to 43rd and Fox Hollow, the noise is there again.  Time is GMT.  This pretty well cinches it that the noise is coming from there…  I drove around a bit, and it seems that the noise is coming from a telco access mount on the ground.  I will visit tomorrow with a portable radio and the RDF antenna.
09/11/12:
I decided to put together a map of the various RFI sources that have been found or are suspect for this area…
Green: Receive site
Red:      Shut down RFI sources
Blue:    Suspect RFI locations
09/12/12:
It looks like only a single source remains…  I will zoom in to the 7:06 transit area later and check.
09/17/12: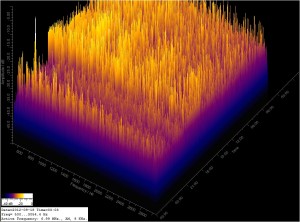 FFT for 09/17/12
The Source located at 43rd and Fox Hollow is correlated with the morning S9 signal, but not the evening S9 signal.  I believe they are two different RFI sources.
09/19/12: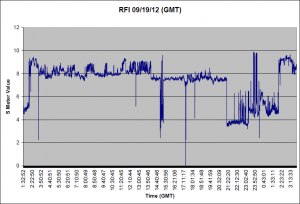 I did some testing, at 19:07, when the RFI starts, I visited site site E, this site was active, when my local RFI was at S9.  Site E and my 7:06 PM RFI are connected…  I have requested two power off tests, and gotten them, see private map for more info.  Something is odd with Fox Glenn…  At 6:00  PM, most of Fox Glen was active with RFI at S9 levels.  I may just call the FCC and ask them to sort this out.  I am sure this is related to the 43rd and Fox Hollow site.
09/20/12:
Some progress today…
Note source E is in the upper right portion of the map.  This map is a subset of all RFI sources mapped to date.  Called Century Link and asked them to check if Source F is DSL, they agreed.  If this is not DSL, then I will contact EWEB.  It sounds much like modulated 120 HZ.  I am assuming that the modulation is DSL data.  Source F is my S5 RFI at my home when it is active.
Source E is S9 + 5 to 10 when it is active, which is each night…
7:00 PM:
Sat in front of School yard by Source E.  Had cell connection to my home radio, used in car radio on 6.999MHz.  Also used 118.9 MHz AM.  At 7:06 PM all three radios lit off.  There is a characteristic start up sound, like a pumping.  The pumping was heard on my home radio, and on the car radio, both at 6.999 MHz.  The signal was not present at 7:02, as I did a full drive by of the area.  At 7:06 the signal started, the pumping was in sync on both the cell connection to my home radio, and the auto radio, thus this is the same source, and it is very close to Source E location.  EWEB has been sent a note.   Source E is my S9 +5 DB RFI.
09/21/12:
New Source!  Source I.  This is most likely the originating source RFI for Source E.  I will check tonight to be sure it dies at 7:06.  It is 10 to 20 over S9 on the street.  This source is North East one block of Source E.  See expanded map.
New Source I is in North East portion of map above.  Note, the above map is a subset of all sources, not a complete list.  More than likely Source I is the originating RFI for Source E, and being carried via utility lines.  There is a streetlight close to Source I.  Will check on/off times.  Source I is 10 db over S9 from street, while Source E is S9 from street.
09/24/12:
09/25/12:
Got email from EWEB today, they will be looking at sources later next month.
09/26/12:
It looks as if some new noise source is attempting to come up at around 1900…  Will have to track…  EWEB in the area yesterday…
09/27/12:
10/01/12:
Posted a status to the local email list…  Got reply from WA7CGR, (Ron), he is getting what appears to be correlated RFI during the evening hours, starting at around 7:00 PM.  He hears no RFI during the day.  Ron's RFI is across the entire HF spectrum.  S9 on 10 Meters with 18 db of attenuation.
When I drive to Source J, (which is about on WA7CGR's 135 heading, I get a signal of 10 DB over S9 on 40 metes from the mobile…  Getting closer…
10/02/12:
Things are starting to look up…  I spent about an hour driving around WA7CGR's QTH last night after WA7CGR and I spoke on the phone.  I believe the RFI WA7CGR is hearing is also mine and Stan's (K7OLN), RFI which is on all night.
In WA7CGR's case, he is getting an RFI spray across the entire 80 through 10 meter spectrum, at S9 plus on ALL bands all night, every night effectively removing his ability to use his licensed station at all for 50% of the time.  This is unacceptable, as it also removed my, and K7OLN's use of 40 and 80 for about the same time frame.
This means we are getting closer to the master source.  Given that this RFI source, (designated Source J in maps above), is also probably generating my, WA7CGR's, and K7OLN's RFI over the nighttime, this has been moved to the number one priority for location.   Also given that it is so strong at WA7CGR's home, it is close to his house.  Hopfully it is within direct radiation distance.  If so, the direction finding hand held beam will start to be used.
Here are last nights data:
Based on the start up sounds of the RFI I will qualify it to verify it is the same RFI K7OLN and I are hearing.  If so, we will investigate and try to locate to a house.
10/02/12 evening:
RFI source started as expected at approx 7:25.  This time WA7CGR, was listening, as was I both from our homes.  The RFI source started on schedule, and Ron and I both observed the pulsing sound upon start-up, at 7:25.  The RFI started at the exact same time, thus source J is now correlated to the main RFI source.
Click the map to expand it…  Note source J has moved slightly west.  This does not jive with WA7CGR's 135 beam heading, but is so close I am going to assume it is geometry that is causing the signal to be a few degrees off on Ron's beam.  Tomorrow I will be at source J at start-up time (7:25 PM), to verify that this location is in fact displaying the same start-up characteristics as we all heard tonight.  Assuming that source J starts up at the same time, and I hear it via cell link to my home radio, and WA7CGR hears it from his, and it displays the start-up pumping sound, we have located the strongest spot for source J to-date!  This means it is probably within 500 feet or so from the Source J location.  The signal strength in the car is approximately 10 db over S9 from the street in front of Source J on Onyx, about 50 feet from the intersection of University and Onyx.  It is weaker under the street lamp at the corner of University and Onyx, so it is not power line re-radiation I am hearing.  There is no above ground utility wiring in this area.  This means that sources H, E, I, and J are all related.  I will contact EWEB this week and see if they can define something from this, by looking at the power layout for the area.  I will also contact them and ask that they move the observation session on the 21st, to the general area of Source J.
10/04/12:
Will be visiting Site J again this evening at start-up time…
10/06/12:
Attended local Ham club meeting last night…  Was fun, and got several requests to assist other hams in locating RFI issues.  I will be assisting them as soon as this issue is done…
Made contact with one of the neighbors in the area of University and Onyx.  Asked about the RFI and if he knew anything about it or was suffering from it.  He will ask around.
 10/07/12:
Did a data take on 75 Meters as opposed to 40:
10/08/12:
It appears a new RFI source has popped up…  I will check past locations, then move on to location if it is not an old location coming back.  See graphs below for new source…
EWEB will be contacted today, regarding Location J, and the new source…
10/09/12:
14:51 GMT: Sent email to EWEB with all the needed data to assist their their RFI location group.  Here is an MP3  of the RFI start up sound.
10/10/12:
Two days of graphs…  Got return email from EWEB, they will be looking for RFI…
Something major came up at around 22:00 GMT…
10/11/12:
Note new source starting at 14:30 to 2100 GMT…  Will begin location process early next week.
10/16/12:
Two days of RFI…  Note additional signal at S6…
Note new RFI source at S6…  Rains have set in, so some of the RFI is related to the additional dampness of the rain…  Will consult others for more info on this subject.
10/19/12:
10/24/12:
10/30/12:
 10/23/13:
New RFI source in South Eugene around the Dillard and Fox Hollow area.  Several hams are hearing it as of this evening.  This time it is 20 over S9, and on 75 Meters at my location…  It is 10 over S9 at Stan's home.  Several other reports some as high as 20 over S9.  Stan and I will begin tracking and note info for the Federal Communications Commission tomorrow evening when it starts up again.  I have the tools set up.  In the previous year, we have started an RFI Task Force within the local club, all paperwork needed to affect control of RFI has been reviewed by a lawyer, so we will now be able to affect assistance to hams in the area for a speedy detection and reporting of RFI issues to the Federal Communications Commission.
03/17/14:
The ARRL has finished testing, and submitted a request or action to the FCC.  See: this link for more information on the ARRL actions.
04/30/14:
The ARRL will be made aware of the current status of this RFI complaint at the Sea-Pac convention in early June.  Data recording is being restarted again,  the RFI problem is still in place in the South Eugene area.  Although it has gotten somewhat better in the past few weeks, it is still rendering the Amateur Radio Service unusable for some operators, and partially usable for most within a two mile radius of the suspected area.  Start times, and direction bearings are being taken in preparation for a direction finding operation, which should be able to pinpoint the source to a single address.
A loop made out of 1 inch copper tubing is being constructed, along with a hand help 40 meter receiver.  This type of loop is much more efficient.  Five triangulation locations along Amazon Parkway have been identified, and as soon as the new loop is finished these locations will be utilized in direction finding the RFI source.  At this time, the area being affected in on the order of several square miles, with up to 7 or 8 Amateur Radio Service operators being affected.  Local cell networks have been contacted.  Broadcast stations will be notified if they are being interfered with, as well.
Additional Data:
This source has ceased operation.
---
Sponsors